Courtesy of Chef Sarah Grueneberg – La Cucina Italiana May June 2013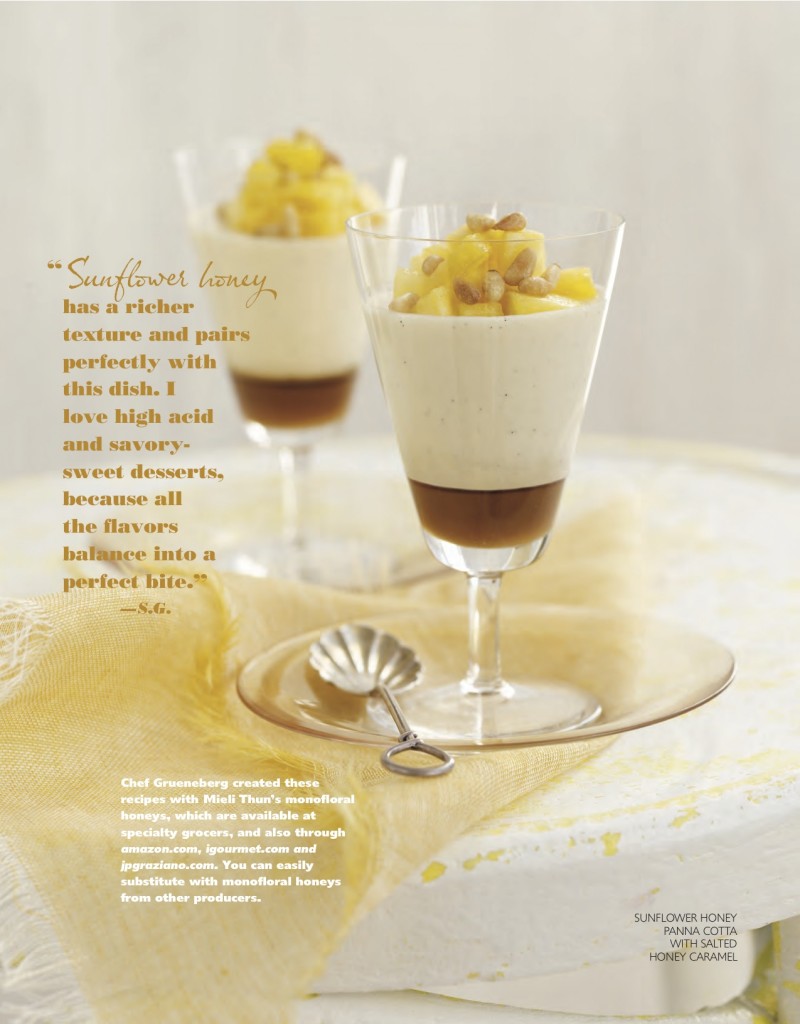 45 minutes plus chilling | 4 servings
Caramel
1 lemon
1⁄4 cup fir or forest honeydew honey
1⁄2 tablespoon unsalted butter
2 1⁄2 tablespoons heavy cream
1⁄2 teaspoon fresh thyme leaves
1⁄4 teaspoon fine sea salt
Panna Cotta
3⁄4 teaspoon powdered gelatin
3⁄4 cup whole milk
3⁄4 cup heavy cream
1⁄4 cup sunflower or cardoon honey
1⁄2 vanillabean, split lengthwise, seeds scraped
1⁄2 cup fresh ricotta cheese
1 tablespoon pine nuts
1⁄2 cup finely diced fresh pineapple
Special equipment: 4 (6- to 8-ounce) ramekins or heatproof dessert glasses
For Caramel: Finely grate zest from half of the lemon; set aside (reserve lemon for panna cotta). In a small skillet or saucepan, heat honey over very low heat until bubbling and color deepens to dark brown, about 6 minutes; remove from heat. Whisk in butter, then return to very low heat. Whisking, slowly add cream. Cook until slightly thickened, about 2 minutes more. Remove from heat. Stir in zest, thyme and salt. Divide caramel among 4 (6- to 8-ounce) ramekins or heatproof dessert glasses; set aside.
For Panna Cotta: Juice enough of the lemon to make 2 tablespoons. In a small bowl, sprinkle gelatin over the lemon juice; let stand 5 minutes.
In a medium saucepan, heat milk, cream, honey, vanilla seeds and pod, stirring occasionally, until bubbles appear around edge of pan; remove from heat. Remove and discard vanilla pod, then add gelatin mixture, stirring until dissolved. In a blender, combine milk mixture and cheese; purée until smooth. Strain mixture through a fine-mesh sieve into a bowl, then add to prepared ramekins. Cover with plastic wrap and refrigerate until set, 3 to 4 hours.
In a small saucepan, heat pine nuts over medium-low heat, shaking pan back and forth over heat until nuts are lightly toasted, 8 to 10 minutes. Transfer to a plate to cool.
Serve panna cottas in the ramekins, topped with pineapple and nuts.
Note: Panna cottas (without fruit and nuts) can be refrigerated, covered, up to 2 days.
Top with fruit and nuts just before serving.