Serves 4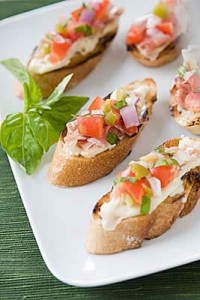 Ingredients: 
1 loaf rustic Italian bread or sourdough baguette , cut into 16 slices
1/4 cup extra virgin olive oil
1 clove garlic , very finely minced
4 ounces robiola cheese
6 ounces very thinly sliced prosciutto
1 pound plum tomatoes , chopped
1 small red onion , minced
3 tablespoons chopped fresh basil
3 tablespoons chopped green olives
Drizzle of balsamic vinegar (optional)
Method: 
Prepare a grill, indoors or outdoors. Grill the bread on both sides until toasted. You may have to do this in two or more batches. Alternatively, use a toaster to toast bread. Mix
olive oil
with garlic. When bread is toasted, lightly brush
olive oil
and garlic mixture on one side of each piece of grilled bread. Spread a thin layer of
robiola
on each slice and top with thinly sliced
prosciutto
. In a small bowl, combine tomatoes, red onion, basil and
olives
. Spoon on top of bread slices and drizzle with balsamic vinegar, if desired.
Nutritional Info: 
Per Serving: Serving size: , 350 calories (240 from fat), 27g total fat, 8g saturated fat, 50mg cholesterol, 1050mg sodium, 15g carbohydrates, (2 g dietary fiber, .4g sugar), 16g protein.
Recipe courtesy of Whole Foods Market.