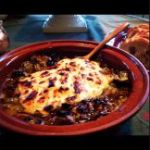 Ingredients:
6 oz Crescenza 
2 leeks, cleaned and sliced thin
1 bulb of roasted garlic
1/2 cup olive oil
2 Tbls. chopped fresh thyme
salt and pepper
Preparation:
Roast Garlic:
Take one bulb and cut the very top off of it. Pour 1/2 cup of olive oil, season with salt and pepper and bake covered in 350°F oven for about 45 minutes. When the cloves are popping out of the bulb, it is ready. Let cool.
Leeks:
Heat 2 Tlbs olive oil in saute pan. Add leeks and cook until tender. Season with salt and pepper.
Squeeze out the cooked garlic from the bulb into a bowl along with the olive oil from the baking dish. Add the leeks and chopped thyme. Layer in the bottom of a small baking dish with the leek-garlic mixture. Keep in mind this is the same dish you will be serving it in for your gathering.  Place the crescenza on top of the leeks. Drizzle with olive oil, salt and pepper and place under the broiler until brown and bubbly. Serve warm.